Description of JS1000 Concrete Mixer
1.JS1000 concrete mixer made in China has two mixing shafts, which are high in automation, high in efficiency, low in energy consumption, low in noise, easy to operate, fast in discharging speed, long life of lining plate and blade, and easy to maintain.
2.JS1000 concrete mixer with factory price has two usages, use alone and mix with batching machine to form concrete mixing plant. It is composed of feeding, stirring, discharging, water, electricity, cover, chassis, supporting foot and so on.
3.This series of machine design reasonable structure, layout novel, easy to repair and use. The height of the leg support is designed to be 4600mm for JS1000 and JS1500A. Customers can use mixers in combination with dump trucks, dump trucks and mixers, and can order construction machinery biaxial cement mixers to meet their special needs.
Difference between concrete mixing plant and concrete mixer
Coagulation mixing plant is a mixing plant equipment adopting coagulation mixer as the host. In addition to the host, it mainly includes the following equipment:
Storage silo: store sand, stone, cement, water and other materials, and supply materials to the batching agency;
Dosing mechanism: measure gravel and other materials according to a certain proportion, mainly composed of various scales, and there are also flow metering equipment using volumetric measurement.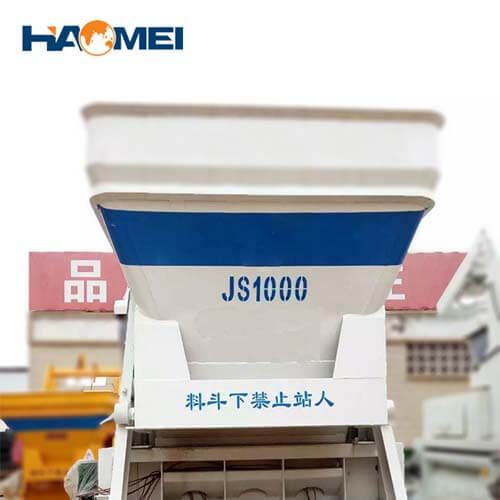 Lifting mechanism: It is mainly used for lifting gravel aggregate.
Control system: control the coordination of various parts to complete the production process.
The JS1000 concrete mixer made in China is only a separate mixer for the production of concrete. It belongs to the compulsory coagulation t mixing equipment. It is suitable for mixing plastic, dry hard, lightweight aggregate concrete and various mortars and mortars.
In simple terms, concrete mixing plants include JS1000 concrete mixer for suppliers, but concrete mixers cannot replace concrete mixing plants.
JS1000 concrete mixer manufacturers produce both concrete mixers and concrete mixing plants. The concrete mixers we produce have high automation, good mixing quality, high efficiency, low energy consumption, low noise, convenient operation, fast discharge speed, lining The board and blade have a long service life and easy maintenance. The concrete mixing plant adopts a modular design, which is flexible in movement, convenient and quick to assemble, stable in operation and reliable in performance.
If you need to buy a concrete mixing plant or mixer, you can contact JS1000 concrete mixer suppliers directly according to the contact information on our website. Waiting for your message.
Why can't drum mixers be used in mixing plants
Low cost JS1000 concrete mixers include drum type mixers and forced type mixers. However, it is absolutely impossible to use a drum type mixer as the host in a mixing plant. What is the reason for this?
The main unit used in the concrete mixing plant must meet the characteristics of wide application range, strong mixing intensity, high production efficiency, high degree of automation, and high safety factor.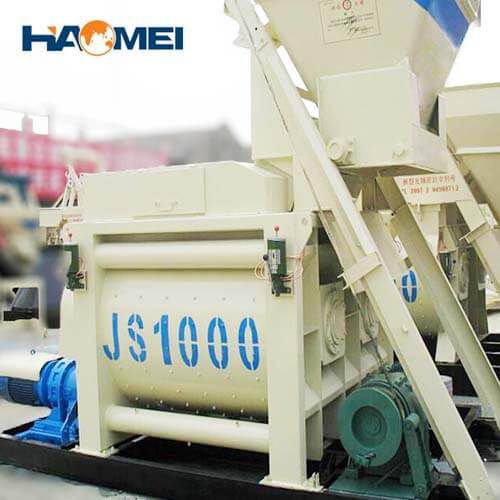 At this point, the traditional drum mixer is obviously unable to meet the requirements of ever-increasing standards and requirements. In the past, drum mixers rely on manual feeding and animal feed rotation by drum rotation. This production method is completely complete. Relying on rotary agitation, the uniformity of the material is poor, the applicable range is quite narrow, and not to mention its slow production speed, but in terms of safety alone, JS1000 concrete mixer with factory price is not suitable for the mixing plant.
Different from the backward production method of the previous drum mixer, the advantages of the forced mixer are obvious. First of all, a horizontal spindle is installed in the mixing box of the forced mixer. There are stirring arms on the stirring shaft. Several blades are fixed on the stirring arm. The main shaft is driven by the power to rotate. The method obviously has a wider range of application. According to the speed of the main shaft rotation, the stirring intensity is stronger and the stirring is more uniform, and the quality of the coagulator is naturally higher.
Secondly, the forced mixer does not need frequent shutdown and unloading during the production process, which improves the production efficiency. Because its overall height is reduced, when it is used in the mixing plant equipment, it can use the belt to load, which greatly improves the safety factor in the equipment. .
Finally, in terms of price, the low cost JS1000 concrete mixer does not exceed the drum mixer a lot, high-quality performance, the same price, naturally more people choose forced mixer as the host of the mixing plant.
The concrete mixing plants produced by JS1000 concrete mixer manufacturers are all double-horizontal-shaft forced mixers that we independently developed and obtained the national technology patent. The performance is even better. Welcome to visit our factory and experience our strength on the spot. Of course, you can also first Come to consult, we will explain in detail for you.
| Specification | Unit | Value |
| --- | --- | --- |
| Discharging Volume | L | 1000 |
| Charging Volume | L | 1600 |
| Mixing Capacity | m3 | 1 |
| Aggregate Size | mm | 60/80 |
| Working Circle | sec | 60 |
| Mixer Motor Power | kw | 37 |
| Lifting Motor Power | kw | 11 |
| Pump Motor Power | kw | 3 |
| Weight | kg | 7500 |
| Dimensions | mm | 4300x2250x2850mm |