What is HZS35 Stationary Concrete Batching Plant
1. Stability and Durability: adapt and apply the most advanced technologies around the world;
2. Reliability: 20 years of experiences in manufacturing high quality concrete batching plants with factory price;
3. Stationary modular compact structure, fast and easy installation.
4. Sicoma concrete mixer, excellent mixing performance with high efficiency and high productivity
5. Double computers with double controls, easy operation.
6. Excellent environmental protection, dust collection system and anti-noise design.
HZS35 Concrete Batching Plant
1. Adopt combined structure and modular unit, convenient to install and remove.
2.Mixing and aggregate lifting system adopt JS750 double shaft compulsory concrete mixer.
3.Aggregate batching system adopts PLD1200 concrete batcher which offers efficient and accurate measurement.
4. Powder-lot is electronic measured and highly accurate dosing.
5. Water is flow-metering, simple and practical, highly accurate dosing.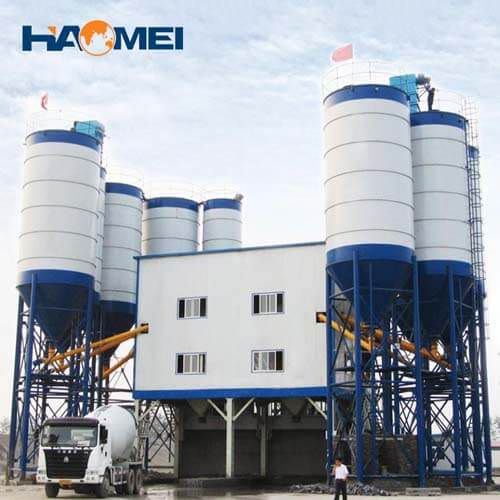 PLD1200 Batching Machine
1. The series of high quality HZS35 concrete batching plant for sale adopts electronic weighing digital display.
2. It has features if accurate weighing, high batching accuracy, fast speed, strong controlling ability, simple operation, reasonable design and compact structure and long service life.
JS750 Concrete Mixer
1. JS750 concrete mixer has the advantages of reasonable design, compact structure and convenient operation. Stable working and good mixing performance and low energy consumption, low noise and long life wearing parts.
2. Mixing system: motor, belt pulley, gear, mixing drum.
3. Feeding system: Lifting motor, feeding frame, hopper, feeding mouth.
Concrete mixing station can be divided into which several parts
High quality hzs35 stationary concrete batching plant is composed of concrete raw materials according to a certain proportion of the ingredients, and then in accordance with a certain process for mixing and mixing, finally produce a concrete mixing plant equipment with a certain performance.
Although low price hzs35 stationary concrete batching plants produced by various manufacturers have various specific forms, their basic forms and composition are similar.
Now the popular mixing station is basically a computer as the core of the control, control all kinds of materials automatic batching, automatic lifting, mixing and discharging, some have data statistics, report printing and other auxiliary functions.
In terms of functions, all kinds of hzs35 stationary concrete batching plant for sale is generally composed of machine parts:
1. Storage bin: sand, stone, cement, water and other materials are stored and fed to the batching mechanism;
2. Batching mechanism: measure materials such as sand and stone in the proportion of -set, mainly composed of various scales, and also use flow metering equipment measured by volume;
3. Lifting mechanism: mainly used for lifting sand aggregate;
4. Mixer: mix various raw materials to form concrete;
5. HZS35 stationary concrete batching plant for sale control system: control the various parts of the coordination work, to complete a certain production process.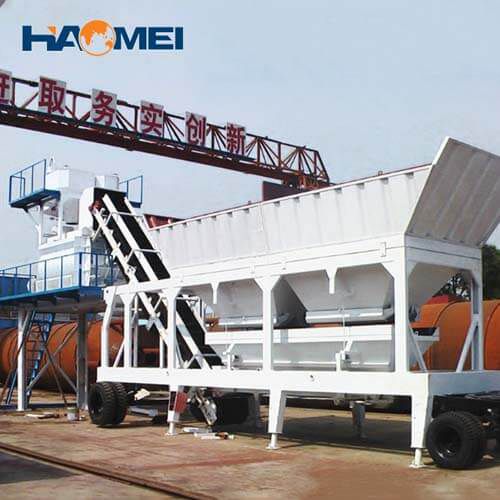 Practical advantages of concrete mixing plants
Practical advantages of concrete mixing plants
1. A practical data management system saves the production data of the HZS35 stationary concrete batching plant in real time. It has strong combined query and various report output functions, and automatically prints the delivery note.
2. Practical slump monitoring system Based on the displayed current curve of the mixer, the operator can intuitively determine the slump of the concrete.
3. Structural features of intermittent cement concrete mixing station with factory price.
4. The lower discharge opening of the storage bin is large, and the material in the storage bin will not arch (the storage bin does not use a vibrator). The feeding speed is fast, and the feeding time is small. One feeding can produce concrete for the truck, the frequency of the cylinder action is small, and the service life is long.
5. How much the storage bin adds to the measuring bucket does not affect the accuracy of the batching.
6. The batching time and the lifting time are combined into one. The storage tank adds short time to the measuring bucket, and the batching time and lifting time are longer. Therefore, the sensor has sufficient stable response time, small overshoot of ingredients and small lifting load.
7. The speed of the strong pull belt is controlled by a computer and an inverter to realize soft start and stop, with small impact and less sticky material on the belt. Various aggregates can be discharged, mixed and lifted evenly within a fixed time.
8. HZS35 stationary concrete batching plant supplier uses a frequency converter to regulate the speed, which can achieve high-precision batching in a short time.
| Specification | Unit | Value |
| --- | --- | --- |
| Productivity | m3/h | 35 |
| Capacity of Mixer | m3 | 0.75 |
| Discharge Height | m | 3.8 |
| Aggregate Bin | Quantity | 3 |
| Capacity of Aggregate Bin | m3 | 8 |
| Max. Weighing Value of Aggregate | kg | 2250 |
| Max. Weighing Value of Cement | kg | 450 |
| Max. Weighing Value of Water | kg | 300 |
| Max. Weighing Value of Additive | kg | 75 |
| Feeding Type | / | Skip Hopper |
| Cement Silo | / | Optional |
| Cement Screw Conveyor | / | Optional |
| Control Mode | / | Auto/Semi control |