Description of HZS180 Stationary Concrete Batching Plant
1. HZS180 stationary concrete batching plant in stock productivity theory 180m3 / h, concrete mixer model JS4000, mixing console power of 110KW, total power equipment package for 200KW, warehouse cell including 4 grid batching machines, batching capability 240m3, cement weighing range and accuracy (0 ~ 1500) 1% kg, additive weighing range and accuracy (0 ~ 50) 1% kg, discharge height of 4 meters.
2. HZS180 concrete mixing station consists of two rows of cement silo and a series of screw conveyor, controlled by a microcomputer control room side jobs throughout the hzs180 stationary concrete batching plant for sale.
3. Simultaneously to two concrete trucks transporting materials agitation. Also using the latest design ideas of electronic weighing, computer control, digital display control technology, electronic volume with buffer device and automatic compensation function, high accuracy.
4. The aggregate system uses a large belt width herringbone material, which can be set according to the needs of the pedestrian walkway security.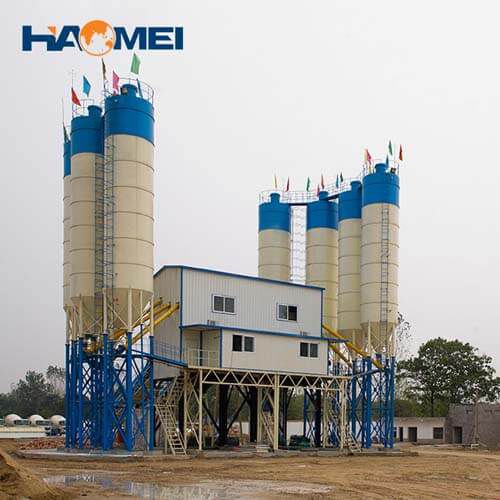 Features of HZS180 Stationary Concrete Batching Plant
1. Modular design structure, which is easy to install and disassemble.
2. With JS4000 or SICOMA Concrete Mixer, high efficiency productivity and mixing performance.
3. PLD4800 aggregate batcher and individually weigh system will improve the efficiency of weighing system.
4. Accuracy weighing system, water, ash, aggregate, cement will be weighing accurately, which improves the quality of concrete.
Precautions for Purchasing Concrete Mixing Plant
There are many details of concrete mixing plant selection that we need to grasp. Today hzs180 stationary concrete batching plant supplier will introduce the following points to you:
1.Performance labels of construction coagulants:
Mixing host is the most core component of the mixing station. Which type of mixing host is selected according to the concrete performance index. For water conservancy projects, a double-horizontal shaft forced concrete mixing host must be selected. In addition, concrete batching machines and cement silos should be selected according to the types of materials that can be stirred.
2.Amount and duration of construction concrete
Use these two parameters to choose how large the size of the concrete mixing plant. Let the total task amount of the concrete worker be A. The number of concrete pouring days is B. The number of working hours per day is C. The utilization factor is X, then the specification of the mixing station X = A / (B * C * X), where X is 0.7-0.9. In the selection, we must also consider the transportation status of the finished coagulant. Such as: direct pumping or vehicle transportation. The volume of the conveying vehicle is also an important basis for determining the type of the mixing station.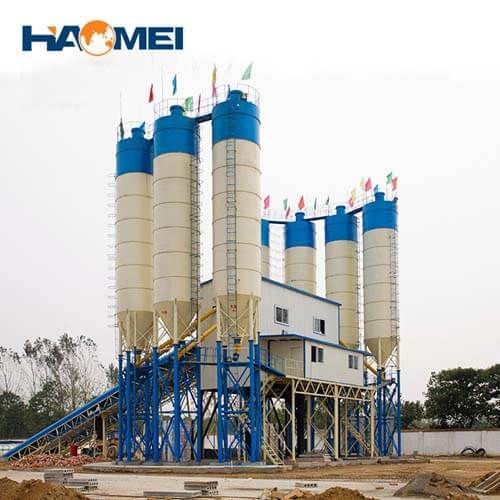 3.Construction amount and construction period
When the construction site needs to cast a large amount of concrete at one time, the quality is high, and there is no cheap hzs180 stationary concrete batching plant in stock nearby, it is better to choose two sets of smaller mixing stations, or one main and one Machine preparation.
4.Traffic conditions
When the construction site is inconvenient and it takes a lot of time for the maintenance personnel of the mixing station to enter and exit the construction site, it is better to choose a two-machine station with the same smaller specifications or prepare enough spare parts to ensure the construction progress smoothly.
5.Transport distance
When the construction sites are scattered, but the distance between the construction sites is not too far, the transportation radius of the concrete mixer truck does not exceed 30 minutes by car, and the dump truck does not exceed 10 minutes by car. It is best to use multi-station centralized mixing to improve the utilization rate of the mixing station and the economic benefits of the application.
6.Operator quality
Generally speaking, the small concrete mixing plant unit has a simpler structure and a simpler control system, so it requires less maintenance personnel. The large-scale concrete mixing plant has a complicated structure and a high degree of automation, so the requirements for operators are also high. So when you buy a cheap hzs180 stationary concrete batching plant for sale, in addition to considering the previous factors, you should also consider the staffing of the operator.
To get more details about the advanced manufacturing technology and the price of HAOMEI Concrete Batching Plants, please contact us.
| Specification | Unit | Value |
| --- | --- | --- |
| Productivity | m3/h | 180 |
| Capacity of Mixer | m3 | 3 |
| Discharge Height | m | 3.8 |
| Aggregate Bin | Quantity | 4 |
| Capacity of Aggregate Bin | m3 | 20 |
| Max. Weighing Value of aggregate | kg | 2x4000 |
| Max. Weighing Value of cement | kg | 1800 |
| Max. Weighing Value of water | kg | 800 |
| Max. Weighing Value of additive | kg | 50 |
| Feeding Type | / | Belt |
| Cement Silo | / | Optional |
| Cement Screw Conveyor | / | Optional |
| Control Mode | / | Auto Control |