What is Concrete Mixer Truck
HM14-D concrete mixer truck manufacturer say, a concrete mixer is a special truck used to transport concrete used in construction projects. The concrete mixer is equipped with a cylindrical mixer for conveying mixed concrete. During transportation, the state of the mixing cylinder will always be maintained to ensure that the concrete transported will not solidify. After concrete is transported, the interior of the mixing drum is usually washed with water to prevent hardened concrete from taking up space, and the mixing drum becomes smaller and smaller.
How to Choose Right Concrete Mixer Truck
Would you like to buy a HM14-D concrete mixer truck made in China? Having the right equipment can increase the efficiency of construction projects. Our company has a variety of high-quality concrete mixer trucks to choose from, you can choose the model that best meets your requirements.
Overview of concrete mixer truck
HM14-D concrete mixer truck for sale is used to mix the materials that form concrete. These devices consist of a motor and a rotating tank. The crank wheel is used to tilt the tank into various positions according to the requirements of the job at hand. Another key component of these devices is their rigid chassis, which are placed on wheels. When you choose a high quality HM14-D concrete mixer truck, the amount of cement you need and the power source available are two key factors. Other important components of these devices include their gear or belt drives and hybrid blades. Choosing a model with two or three blades can increase mixer productivity.
Reliable quality of concrete mixer truck
If you are buying a low price HM14-D concrete mixer truck made in China, it is recommended that you buy a rugged machine so that you will not be disappointed when you encounter difficulties. The strong frame reduces the risk of the mixer falling over rough terrain. Fuel tank quality is an important consideration. Even if water is used for proper cleaning, residual cement will accumulate in the water tank, which may be difficult to remove.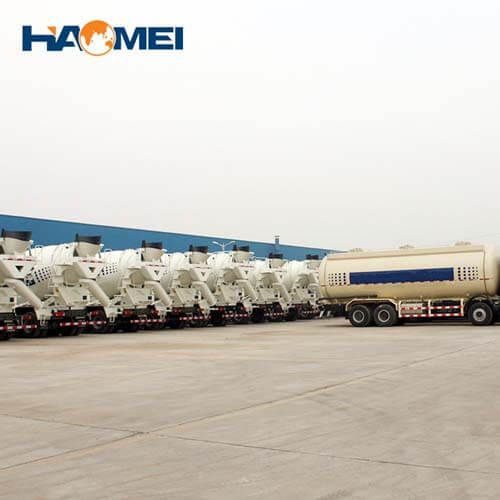 Applications For Concrete Mixer Trucks
Mixers cannot be moved often, so this type of concrete mixer truck is only suitable for preparing cement at a job site. If you need to prepare cement in different workplaces, portable mixers are the better choice. If you need to move a high quality HM14-D concrete mixer truck for manufacturer to a different part of the construction site during the day, on-site mobile equipment is a great solution. Alternatively, you can purchase a portable trailer mixer, which is bigger and more sturdy. These units can be dragged to your construction site, but they are more difficult to operate than mobile units.
Performance of Concrete Mixer Truck
If you want to increase the efficiency of a construction project, you need to choose a concrete mixer truck that provides good performance. The unit you choose depends on the size of the items you normally use. If you usually work on smaller projects, you can buy smaller units, but it is recommended to buy units that are slightly larger than the ones you need in order to provide you with larger projects in the future. Larger units often also provide faster performance.
Design of Concrete Mixer Truck
The dump mixer design you choose depends on your preferences. You can use two-sided dumps or end-to-end dumps. If you want to connect the equipment to a low price concrete mixer truck to pour the concrete into a small space, pouring the mixture at the end is the right choice. Check the size of the equipment before you buy to make sure it matches the construction site where you usually work. The drum type of the device will also influence your decision.
| Specification | Unit | Value |
| --- | --- | --- |
| Mixing Capacity | m3 | 14 |
| Tank Volume | m3 | 20.1 |
| Feeding Speed | m³/min | ≥3.5 |
| Discharging Speed | m³/min | ≥3 |
| Residual Ratio of Discharging | % | ≤0.5 |
| Water Supply System | / | Air pressure |
| Water Tank Volume | L | 400 |
| Overall Dimension | mm | 10300*2496*3920 |
| Chassis Model | / | HOWO |
| Clutch | φ | φ430 Monolithic dry type |
| Min Ground Clearance | mm | 245 |
| Max Speed | km/h | 90 |
| Engine Max Output Power | kw | 340 |
| Emission Standard | mm | Euro Ⅲ |
| Rated Load | kg | 16000 |
| Overall Weight | kg | 31000 |
| Wheelbase | mm | 1800+3200+1350 |