Description of YHZS35 Mobile Concrete Batching Plant
1. YHZS35 mobile concrete batching plant with factory price is a complete mixing equipment composed of the feeding system (loading hopper), weighing system, conveying system, mixing system, discharging system and other accessories.
2. As a small mobile concrete mixing station, yhzs35 mobile concrete mixing station is widely used in bridges, roads, buildings, short-distance railways and other small projects.
3. The yhzs35 mobile concrete mixing station uses a forced double-shaft mixer JS750, which has the function of lifting the hopper.
4. The whole equipment is installed above the steel frame, which is easy to disassemble.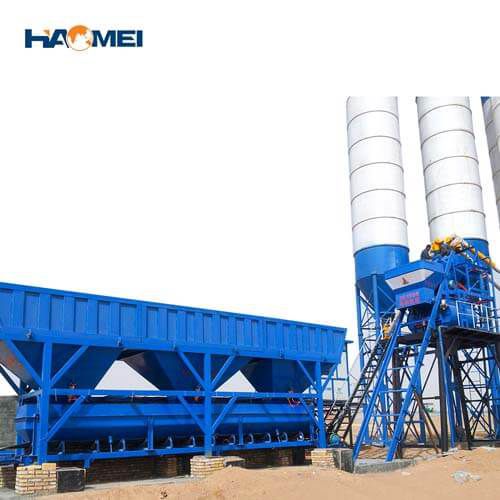 YHZS35 mobile concrete mixing plant for sale adopts a traction structure with an operating system and standard coupling pins. It can be towed by a trailer. There is no foundation and commissioning to make transportation convenient. The mixing device can be divided into several standard modules and then packed into a container.
What are the components of a mobile mixing plant
1. Mainframe: Cantilevered mixing mainframe chassis. The chassis contains trailer truck traction pins and parking legs; the chassis is equipped with a mixer, cement and water admixture measurement scales; perimeter inspection walkways, railings, etc. .
2. Control room: YHZS35 mobile concrete batching plant manufacturers said, the control room is located at the bottom of the mainframe chassis, with a fully automatic control system of the mixing station. The control room is used as the front support point of the entire station when it is in operation. The control wiring does not need to be disassembled.
3. Aggregate batching measurement: This system is located at the rear end of the entire mixing station. The upper part is an aggregate (sand, stone) storage hopper. The storage hopper can be divided into 2 or 4 cells, and a height plate is set to increase the storage capacity , Pneumatic door opening operation in turn, aggregate measurement is a variety of materials cumulative measurement method. The bottom is equipped with a walking rear axle and working frame legs.
4. Peripheral components: It is a cement warehouse and a screw conveyor. The peripheral components are integral components whether they are working or transporting. They do not need to be disassembled and can be transported and disassembled as a whole.
Classification of mobile concrete mixing plants
First, in the low cost concrete mixing station, the general materials still need to be promoted for the second time, that is, the materials are first lifted to the storage hopper of the equipment, and then weighed according to the processing needs and transferred to the mixer. The advantage is that it has the advantages of simple structure, low investment, and small building height. It is widely used in small concrete mixing plant projects. The disadvantage of this equipment is that the raw materials need to be improved twice, which will make the equipment inefficient and the automation level of the horizontal concrete mixing station is low. These are its shortcomings, and the places that need improvement are generally selected and used in small and medium cities.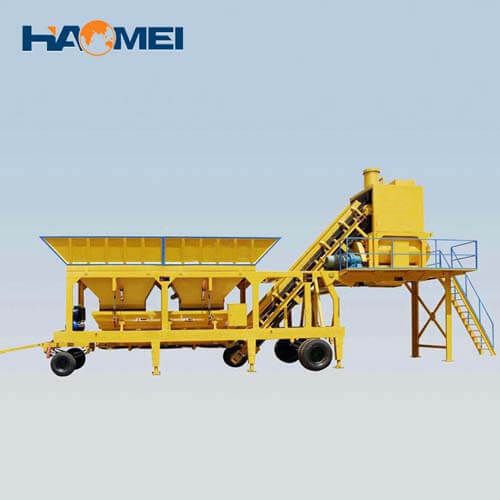 Second, in the concrete mixing plant with factory price, the materials to be processed are promoted once, and then they are lowered to various processes that need to be processed by means of self-weight.
The advantage is high efficiency, small area, very convenient to use and implement automation equipment. The disadvantage of the vertical commercial concrete mixing station for sale is that the equipment structure is too complicated, the production cost increases, and the installation is difficult. Currently, they are all manufacturers of large enterprises.
The mobile concrete mixing station is a way of combining and installing a series of equipment on a single basis, such as feeding, storage, mixing and unloading. The mobile concrete mixing station has a compact structure, is easy to operate, and can be directly operated on site, thereby reducing the concrete transportation distance and effectively saving effective economic costs. For some small and medium projects or maintenance projects, you can choose to use them.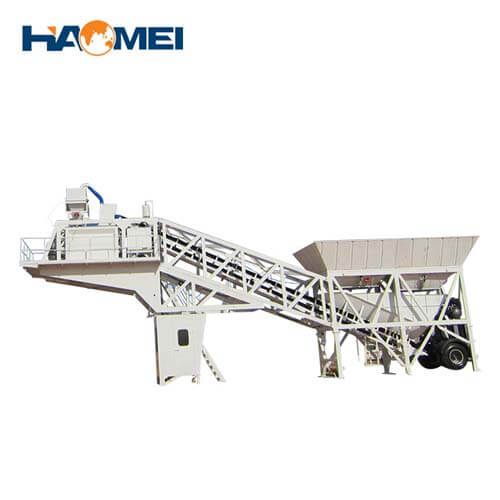 FAQ:
What is a dry concrete plant?
YHZS35 mobile concrete batching plant manufacturers say, dry concrete plants (also known as transport mixers) weigh sand, gravel, and cement in weighing dispensers by digital or manual scales. . A mobile batch plant can be built on a large work site. Batch computers can be used in both wet mix and dry mix plants.
What is the batching plant for?
A low cost concrete batching plant is a machine that produces concrete from the chemical components of cement, gravel, sand, water and additives. Additives such as GGBS (powdered blast furnace slag), fly ash or microsilicon powder are sometimes added to alter the characteristics of the final product.
How many types of batching plants are there?
There are two main types of concrete plants: Dry mix plants and Wet mix plants, and also plants that contain both a transit mix side and a central mix side while utilizing common material storage points.
| Specification | Unit | Value |
| --- | --- | --- |
| Productivity | m3/h | 35 |
| Weighing scale Concrete | kg | 2500 |
| Weighing scale Cement | kg | 600 |
| Weighing Scale Water | kg | 300 |
| Weighing Scale Liquid Additive | kg | 20 |
| Overall Power | kw | About 70 |
| Power Source | V/ HZ | 380/50 |
| Discharge Height | m | 3.8 |
| Overall Weight | t | 17(cement silo not included) |
| Trail speed | km/h | ≤40 |
| Specification(LxWxH) During work | m | 17.3x3.4x7.4 |
| During transportation | m | 17x2.4x4.34 |