Description of YHZS25 Mobile Concrete Mixing Plant
1. Mobile concrete mixing station can be quickly installed on site. It consists of all necessary equipment such as mixer, batching system, operation system, feeding system, weighing system, cement silo, screw conveyor, etc., and is installed on the transport chassis.
2. Mobile concrete mixing plant can be operated without commissioning. This equipment has the characteristics of high degree of automation, uniform mixing, high production efficiency, strong flexibility, convenient operation and good stability.
The buying discount YHZS25 mobile concrete batching plant combines new technologies at home and abroad, and has the characteristics of accurate weighing, uniform mixing, high mixing efficiency, fast and clean transportation, and convenient movement.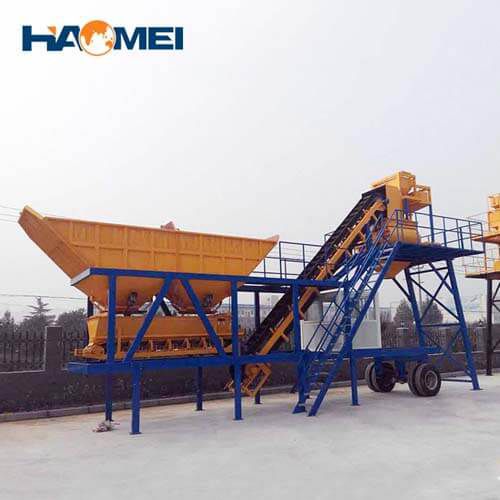 Features of YHZS25 Mobile Concrete Batching Plant
1. Mobile Concrete Batching Plant is designed in a compact manner and occupies a small area.
2. Easy installation, unloading and operation (1-2 days to start concrete production, 1 day to disassemble).
3. Lower base cost (80% lower than fixed concrete batching plant).
4. Moving concrete mixing plant installation does not require local authorization.
5. Reduce maintenance and operating costs.
6. Reduce transportation costs.
7. YHZS25 Mobile Concrete Batching Plant from market can minimize concrete transportation costs.
8. Free training services and spare parts.
Advantages Of Mobile Concrete Mixing Plant
In the construction of highways and high-speed railways, construction equipment often moves with the progress of the project, and the process of relocating heavy equipment often confuses the constructor. At the same time, with the improvement of environmental protection requirements, the requirements for rapid transition, modularization, mass production, and high environmental protection of buying discount mobile concrete batching plants are becoming more and more urgent.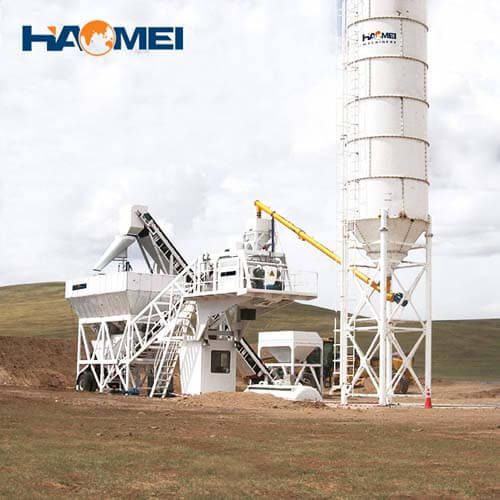 On the premise of meeting the output and quality of concrete cement, the mobile concrete mixing station has realized the requirements of rapid installation, flexible movement, convenient relocation, mass production and environmental protection and efficient construction. It is especially suitable for various roads, bridges, dams, airports, electric power and other mobile construction sites and construction production bases. Today's mobile concrete mixing plant manufacturers talk to you: the advantages of mobile concrete mixing plant
1. The mobile mixing station adopts the wheel type fast motion design, and the transmission field is simple and convenient. Wherever high-quality concrete products are required, mobile concrete mixing plants are a piece of equipment for different businesses. When one site ends, it can be easily moved to the next site, and the performance of the equipment is not affected by the relocation, which greatly increases production time and shortens disassembly and assembly cycles.
2. Mobile mixing station can be installed quickly. The structure of the whole machine is compact and reasonable. Most of the functions of the mixing station are completed on the traction chassis. The batching station is designed as a whole, consistent with the scale of transportation, and a car is removed as a whole (all components have been installed). From one station to another, the mobile mixing station greatly reduces transportation costs due to its special design, and the cost of disassembly and assembly (including maintenance and maintenance) is also greatly reduced. The demand for external support will also be reduced accordingly, including personnel, site preparation, etc., which will bring huge benefits as a whole.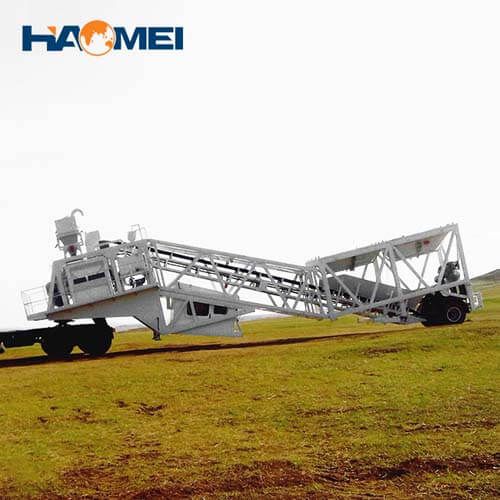 Mobile cement concrete mixing plant is developed on the basis of fixed concrete mixing station. The material storage, weighing, transportation, mixing, unloading and automatic control systems of the concrete mixing station are concentrated on the semi-trailer, which has a compact structure and good comprehensive performance.
Reasons For Low Productivity Of Mobile Concrete Mixing Plant
Mobile mixer concrete mixer is a very important concrete production equipment. Many people pay attention to maintenance and find that the operating efficiency of concrete mixer is lower in use, but I don't know why? Today, mobile concrete mixer manufacturer talks to you: the main reason for the reduction of the operating efficiency of the mobile mixer concrete mixer
1. Compatibility with oil filter element.
Concrete mixers contain a metal filter element, with most non-metal filter elements. They questioned whether any oil was compatible with the system. These measures include compatibility issues with chemical changes in thermal effects. It is more important not to influence under high temperature conditions. Therefore, various filter elements must be tested for fluid compatibility at high temperatures.
2. Influence of low temperature work.
Operating the system at low temperatures also adversely affects concrete mixers. Because at low temperatures, filter elements become more susceptible to certain non-metallic materials
At low temperatures, the viscosity of the oil causes an increase in pressure drop, and dielectric materials can easily cause cracking.
3. Regular flow of oil.
Oil flow systems are usually unstable. YHZS25 mobile concrete batching plant manufacturer
Say, When the flow rate changes, the filter element will cause bending deformation. In the case of periodic flow, as the filter medium is a repeatedly deformed material, this will lead to fatigue failure of the material forming fatigue cracks.
| Specification | Unit | Value |
| --- | --- | --- |
| Productivity | m3/h | 25 |
| Weighing scale Concrete | kg | 2000 |
| Weighing scale Cement | kg | 510 |
| Weighing Scale Water | kg | 150 |
| Weighing Scale Liquid Additive | kg | 15 |
| Overall Power | kw | About 55 |
| Power Source | V/ HZ | 380/50 |
| Discharge Height | m | 3.8 |
| Overall Weight | t | 13(cement silo not included) |
| Trail speed | km/h | ≤40 |
| Specification(LxWxH) During work | m | 17x3.6x8.2 |
| During transportation | m | 17.6x2.4x4.35 |