Haomei is a manufacturer and factory of HZS25 stationary concrete batching plant with decades of experience. If you are interested in the price of concrete mixing plant, you are welcome to inquire about hzs25 stationary concrete batching plant price and related questions. Looking forward to your consultation.
What is the HZS25 stationary concrete batching plant?
1.HZS25 stationary concrete batching plant is the component of semi-automatic concrete mixer. It is a simple and small concrete mixing plant with automatic feeding function and JS500 mixer, feed, batching, electrical control and steel structure.
2. This simple low cost hzs25 stationary concrete batching plant has a single independent use and PLD series batching unit production capacity of more than 25m3/h concrete mixing plant double advantages, and the structure is simple, disassembly convenient, convenient construction.
3. It has the advantages of evenly mixing concrete, short mixing time, long service life of damaged parts, convenient operation and maintenance, etc.
4. Adapt to small-scale construction sites, prefabricated parts factories, small-scale commercial concrete production plants and road maintenance, etc.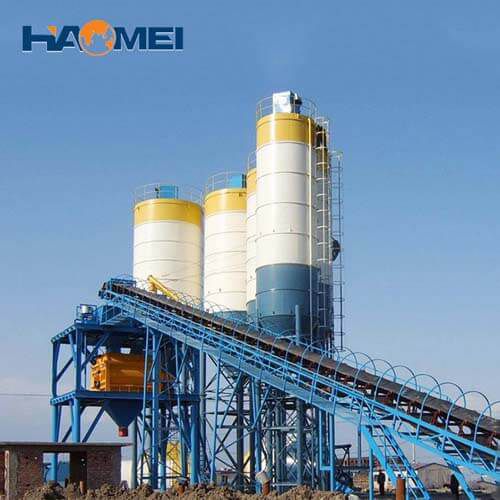 The hot sale hzs25 stationary concrete batching plant adopts the new design idea, electronic weighing, microcomputer control, digital display and other control technology, electronic weighing is equipped with buffer device and automatic compensation function, measuring accuracy is high. Sand and gravel feeding system with large width miter belt feeding, with pedestrian walkway, so that the majority of construction units to produce high-quality concrete ideal choice.
What is hot sale hzs25 stationary concrete batching plant made of?
Mixing system
JS500 type double horizontal shaft forced concrete mixer; High alloy wear resistant material, evenly stirred, stable; Multiple shaft end sealing protection technology, no leakage of slurry; Reasonable structure, short stirring time, energy saving, low noise and high yield.
Batching system
Pld1200 batching machine is selected for hzs25 stationary concrete batching plant; Can be divided into two warehouse, three warehouse, four warehouse material storage hopper; Feeding mechanism is arranged in the shape of "product" and fed by belt conveyor; Use separate material weighing and accumulative material weighing.
Easy to install
Adopting modular structure and unit, it is very convenient to install and move.
Control system
The hot sale HZS25 stationary concrete batching plant system USES imported components, reliable performance; Intelligent control, automatic control, manual control in one; Equipped with proportioning storage, automatic compensation for drop, alarm correction for overbalance and underbalance; Data cloud storage, printing and other functions.
Conveying system
Powder conveying adopts full sealing device; Soft link is adopted between the discharge port and the measuring hopper, which does not affect the measuring accuracy. The feeding port is a universal ball joint, adjustable Angle deviation; The clearance between spiral blade and barrel is small and the transmission efficiency is high.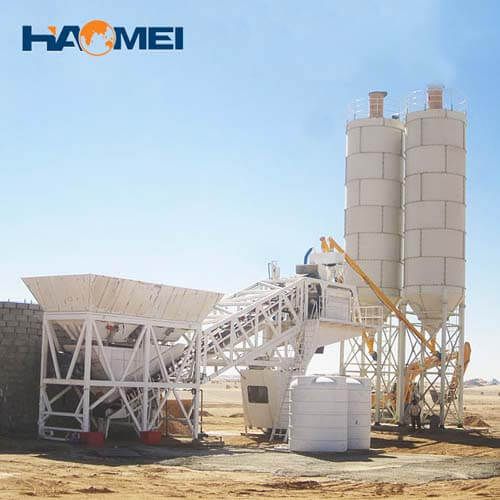 Metering system
Powder, water, additives are measured by electronic scales; HZS25 stationary concrete batching plant ingredients high precision, accurate measurement; The cement measuring bucket is hung on the rack by the sensor, the structure is stable and the reliability is high. Water meter adopts water pump discharge; The admixture measuring bucket is measured by single lifting point sensor.
Short Features of HZS25 Concrete Batching Plant
1. International popular modular structure
2. Adapt and apply for the most advanced technologies
3. The mixing system with excellent mixing performance
4. Main electrical components from Germany SIEMENS
5. Suitable for small-scale construction project
FAQ:
What is a concrete batch?
A concrete plant is a device that combines various components to form concrete. The core of a concrete mixing plant is a mixer, and there are many types of mixers, such as tilting drum, disc, planetary, uniaxial and biaxial.
What is a ready mix concrete plant?
Premixed concrete is concrete delivered in batches from a central plant rather than mixed at the construction site.
How many types of batching plants are there?
There are two main types of concrete plant: dry mix plant and wet mix plant, and the use of the common material storage point at the same time including transport mix surface and central mix surface plants.
| Specification | Unit | Value |
| --- | --- | --- |
| Productivity | m3/h | 35 |
| Capacity of Mixer | m3 | 0.75 |
| Discharge Height | m | 3.8 |
| Aggregate Bin | Quantity | 3 |
| Capacity of Aggregate Bin | m3 | 8 |
| Max. Weighing Value of Aggregate | kg | 2250 |
| Max. Weighing Value of Cement | kg | 450 |
| Max. Weighing Value of Water | kg | 300 |
| Max. Weighing Value of Additive | kg | 75 |
| Feeding Type | / | Skip Hopper |
| Cement Silo | / | Optional |
| Cement Screw Conveyor | / | Optional |
| Control Mode | / | Auto/Semi control |